Aromatherapy Books, CDs, DVDs, MP3s & Mobile Phone Apps
The Fountain of Youth is not located on some far away island. It is located within each and every one of our cells. Mankind already possesses the knowledge for man to live a long, healthy, disease-free existence. We need not wait until 2050. The living fuel of rejuvenation is already known. Against the will of the pharmaceutical drug establishment, the answer is about to be revealed to you!
The National Association for Holistic Aromatherapy On-Line Bookstore will help you stay current and expand your aromatherapy knowledge with a variety of aromatherapy books, tele-conference presentation recordings, and other educational materials. Members receive special discounts on select bookstore items and monthly book specials via e-newsletter.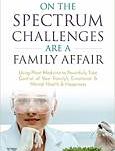 This book was created after working with many families with children on the spectrum. It offers your family a very powerful, natural and safe way to help calm many of the symptoms of autism as well as the inherited challenges we are born with. This book shares with you plant extracts to help your child. The end goal of this book is to bring you together as a family using simple plant medicine.