We stock and sell over 170 single-note aromatherapy grade essential oils at impressive discounts. Each of these oils is properly distilled, 100% pure and sold at full strength. We also carry 100% pure essential oil blends, natural body care products, aromatherapy supplies, diffusers & aroma lockets, natural perfumes, and smudge sprays. We also carry healthy lifestyle and wellness products. Many products are exclusive to AromaTherapeutix. Wholesale accounts also available.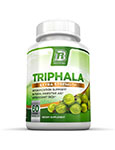 Balancing formula for detoxification & rejuvenation: Triphala is recommended and used more than any other Ayurvedic herbal formulation. Popular for its unique ability to gently cleanse and detoxify the system while simultaneously replenishing and nourishing it, this traditional formula supports the proper functions of the digestive, circulatory, respiratory and genitourinary systems.

Our apothecary line features natural skin care, body care, and solutions to your everyday household products. These products include candles, soaps, body oils, and lotions. Our products are all handmade in small batches. We also make Law of Attraction sprays that pair well with our sage and crystal selection.