We focus on the expansion and evolution of consciousness, while supporting the physical, emotional, and mental processes along the way. ChakraConsciousness is a leading-edge website that empowers individuals to achieve optimal spiritual growth, optimal health, wellness and clarity in all aspects of their lives.
Naturopathic physician and Autonomic Response Testing (ART) expert specializing in complex chronic illness, mold and mycotoxin illness, vector-borne illness, immune dysfunction, preventative medicine & health optimization. Offering Telemedicine sessions for CA, ID, WA States and International residents. US residents outside of these three states must establish care in-person first.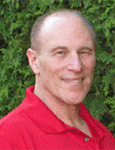 Dr. Glenn Gero has appeared on numerous television and radio programs, including NBC, PIX, Fox, NJTV, among others. He analyzes each individual's health, behavioral and attitudinal profile to help achieve optimal wellness.