Therapeutic Touch Books, CDs, DVDs, MP3s & Mobile Phone Apps
We are offering a new online store, featuring guided Taoist Qigong meditations. We also offer Flower Essences, Gem Essences, Chakra balancing tools, rare and hard to find Homeopathic remedies. Visit our website to learn more.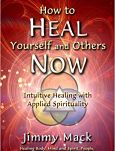 Jimmy Mack is a renowned Medical Intuitive, Spiritual Life Coach, and Creator of the My Liquid Fish® and Change Made Simple® techniques. He will help you create transformational Healing of Body, Mind and Spirit, People, Places, Pets and Situations! Titles include Take Action now, How to heal Yourself and Others Now, Tell the Fish – 365 Daily Inspiration and Affirmations, The Tackle Box – Change Made Simple, Advanced Deep Sea Fishing series of continual downloads.