Light Therapy Products

Specializing in Cold Laser Therapy, Acupoint Therapy & Light Therapy equipment for Personal & Professional applications. We have over 14 yrs experience in cold laser therapy & light therapy products for treatment of musculoskeletal conditions, acute & chronic pain, injury & operation prevention, rehabilitation, weight control & wrinkle reduction. Light therapy treats the cause & the symptoms. Our FDA cleared lasers support self-healing on a cellular level. We also offer QiFi EMF protection and MultiPure water filter products too!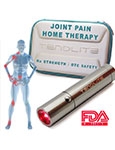 Join the thousands of clients in over 65 countries, who enjoy the incredible benefits of TENDLITE® Red Light Therapy! Some of the benefits are: New Medical Grade Power in Red Light Therapy – For Home Use, Self-administered and without a prescription, Painless, Easy & Safe Treatments, Fast Sessions: Just shine the Light directly at the Joint or Disc, Treats Symptoms & Cause, Safe for You and Your Pet too!
This type of laser therapy has been successfully used on animals for pain management, inflammation relief and rebuilding the physical body from the inside out on a cellular level. SWL uses wavelengths for skin, wounds and all soft tissues and deep penetrating waves for bones, teeth and all hard tissues. It also has violet wavelengths for anti-aging, immune boosting and emotional balancing.